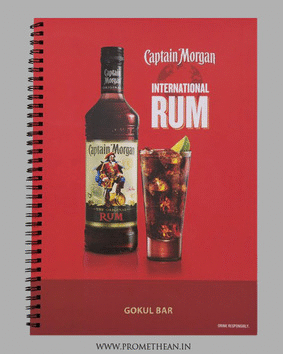 Some great ideas never leave the drawing room, or worse, stay stuck in people's mind. And that is largely because their execution appears to be a daunting uphill task.
​
Companies like Promethean exist to facilitate the realisation of such path-breaking thoughts. Case in point - the MenuMaker project for Diageo India.
​
The customer marketing team at Diageo India hit upon the idea of branded menu cards for the thousands of bars and restaurants that their products are served in. They built the software to output branded menus. However, there were two challenges to overcome - converting photographs of prevailing menus into text for the branded menus, and producing highly-individualised premium menu cards for a massive number of outlets across the nation.
​
Promethean delivered on both fronts - efficient data conversion through external partnership; and high-quality menu cards with digital foiling, tactile effects, and digital printing. Since 2018, we have produced and delivered variety of menu cards for more than 6000 bars and restaurants in the country, fulfilling marketing goals and increasing sales for the client!
​
So, come to Promethean if you are striving to bring to life a ground-breaking long-term idea or project!